I found Fresh's Floral Recovery Calming Mask to be pretty neat. I was walking around Sephora two weeks ago and saw this on their display. At first, I was not really sure whether I wanted to get it, but after taking a while to decide, I ended up grabbing it to give it a try.
It is a great overnight mask that definitely does what they aim to do. I think it is perfect for those of you who has experienced the bitter harsh cold winter and require something at night to help soothe and moisturize your skin.
When I first tried out the product, it actually reminded me of Farmacy's 10% Niacinamide Night Mask as they both are overnight masks made to soothe your face. In addition, they both came with a blueish purple tinted bottle, so they really gave the same feel for me.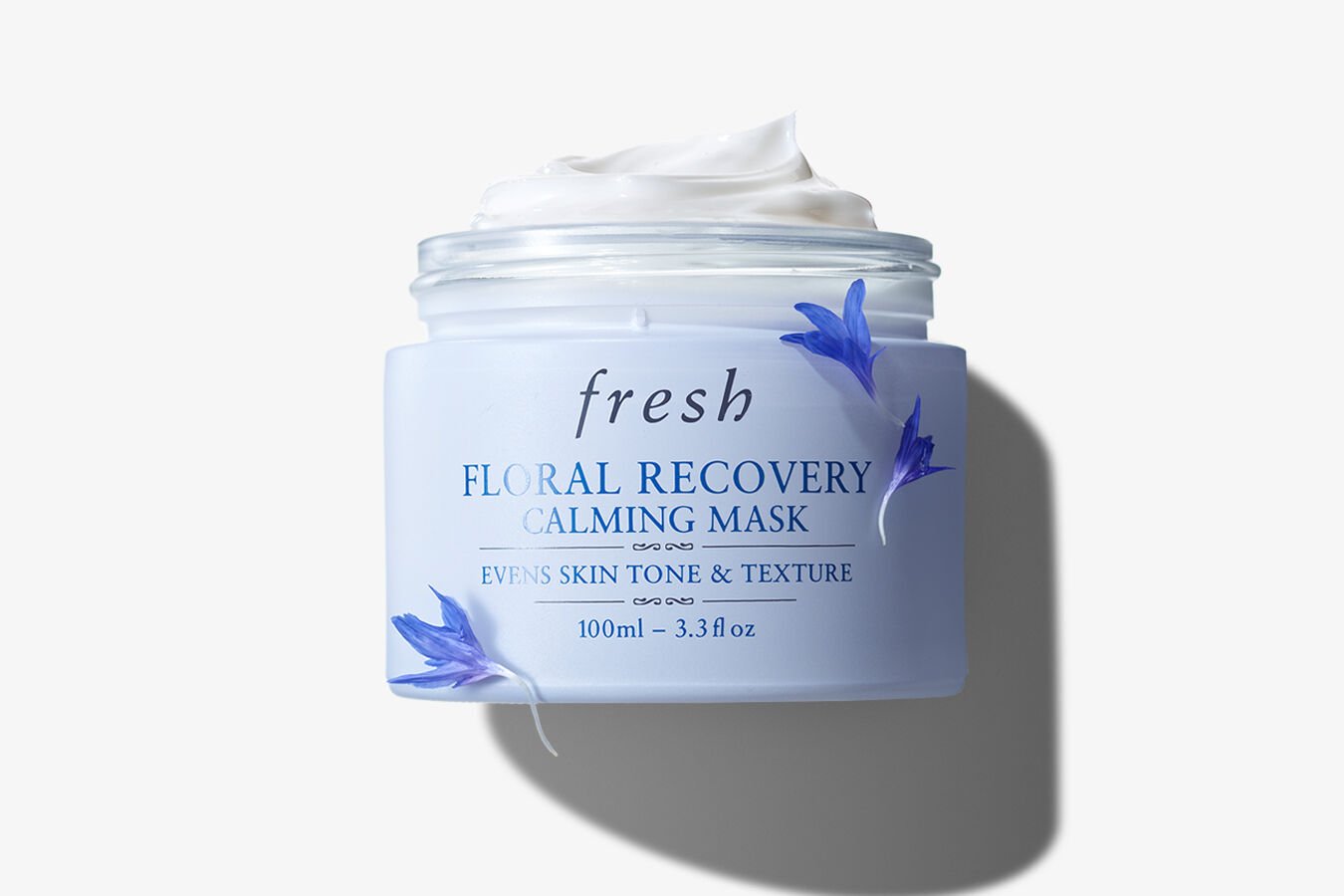 What Does the Floral Recovery Mask Do?
Anyways, it is an overnight mask that is able to help calm down your skin sensitivity. For those of you with sensitive skin, I do believe this product will be able to help. I tend to get a little red around my cheeks when the weather gets too harsh and I found that this product was able to calm down the redness overnight.
Other than calming down the redness, the mask can also help fix uneven tone and rough texture. In particular, this mask contains several flower extracts. All of those extracts are known to be calming and relaxing flowers that can help reduce the look of redness on your face.
Not only does it have ingredients that help reduce redness and skin irritation, it also contains vitamin C to help brighten your skin and even your skin tone. Therefore, the Floral Recovery Calming Mask is skincare product that will help hydrate, brighten, tone and reduce the irritation of your skin.
Thoughts on Using it
It is easy to use, all you need to do is to put it on your face at night before you sleep. Ideally, you might want to use a cleanser to clean your face before you use the cream. If you really want to fully maximise the benefits, I would suggest you to cleanse, tone and then finally put the cream on. This 3 step routine is pretty simple and efficient.
Throughout the day, your face will be exposed to pollution, dirt, sunlight etc. If you don't clean your face, it negatively impact your skin and might cause premature aging. Therefore, cleansing and toning your face will help keep your face clean and healthy. In addition, a good toner can help balance out your skin's pH levels and prime your face to help absorb the Floral Recovery Mask.
I actually quite like it. I found the cream to be quite thick and therefore it does not require a lot to spread throughout the face. The cream smells amazing, it has a nice mellow flowery refreshing scent. Not too overpowering to disturb your sleep, but it is a nice noticeable scent.
I think the cream is especially perfect for winter weather. During the winter, the cold is actually pretty harsh and drying to our face. The nice thickness of this cream was quite beneficial for me to use at night and I felt that it really does make a difference in keeping your moisture locked in during winter.
If thickness might be an issue, you should try using less and spreading it out more. Personally, I think I would be using less during summer as I don't want to be too coated when I sleep at night while it is hot.
I do notice that my skin did feel a little less inflamed or red the next day. I have really sensitive skin and therefore anything can really set it off. Some days I would get red and blotchy skin and this product was able to tame the redness and reduce the dryness.
Ingredients Worth Mentioning
Squalane
This is third on their list of their ingredients. Squalane is a more stable version of squalene, a lipid that can be produced naturally by your own skin. However, as you age, your body produces less and less squalene. When applied on your skin, squalene can help keep your skin hydrated and what is really cool is that it is able to mimic your own skin's natural oils. This makes it a really good at moisturising you and keeping your skin soft.
In addition to being moisturising, it also have antioxidant benefits as it protects your skin from lipid peroxidation. Basically, it helps prevent damage on your skin surface and in the pore lining where the oil in your skin originates.
Camellia Oleifera Seed Oil
This is an oil extract of the green tea seed. It is a popular ingredient that helps hydrate your skin and can also stimulate collagen production, preventing pimples and acne and reduce signs of aging.
There actually isn't many studies done on the benefits of green tea extract on skincare. It has been suggested that the antioxidant effects of green tea can help fight against the damage from your environment and free radicals.
This oil extract also contains plant collagen, which is why it has been suggested that it might be possible to boost your collagen production on your skin while also inhibit the collagen degrading enzyme. This will help your your skin elasticity and might even reduce your fine lines and wrinkles.
Passionflower Oil
Passionflower extract contains good nutrients such as vitamin A and C, essential fatty acids and antioxidants. It also is highly anti-inflammatory, which means that it will be helpful in calming your red and inflamed skin. The essential fatty acids will be able to help hydrate your skin while also keeping your sebum production controlled and help preventing acne breakouts.
Cornflower Water
Cornflower is known for its antioxidant, anti-inflammatory and antiseptic properties. It has been used as a natural healing ingredient for many years. Because it has anti-inflammatory properties, cornflower water can help soothe your sensitive skin. It is also considered a natural astringent, this means that it can help tone and brighten your face. Cornflower water might help with your dark spots or discolouration on your skin.
Ascorbic Glucoside
This is just another version of vitamin C. Ascorbic glucoside is a more gentle and stable version of vitamin C. Because this is a less potent version of vitamin C, it is good for all types of skin as it would not be too harsh for those who have sensitive skin.
It is an antioxidant and great for those who are looking to brighten their complexion and reduce signs of aging. Vitamin C will help by reducing damage from free radicals and help fade your existing dark spots and prevent new ones.
Takeaway
All in all, this is a great cream for your night time skincare routine. It is great for those who have sensitive skin like me. Since we lose moisture in our skin at night, this is a great product that helps keep you hydrated and lock the moisture in.
The ingredients also help repair and promote skin cells turnover quicker and takes advantage of the fact that your skin is actually more permeable at night. Since your skin repairs at night, I think the antioxidant ingredients and vitamin C really helps promote a more anti-aging effect on your face.
The Fresh Floral Recovery Calming Mask is a very versatile skincare product. I like how it addresses many different skin issues that you might have. For those of you who are looking to simplify or want an easy routine, this is great as all you have to do is cleanse your face (and tone if you want) and then just slather the Floral Recovery Mask on. There isn't a need for you to mix and match serums etc.
Have you tried the Fresh Floral Recovery Calming Mask? What do you think of it?