This page contains Affiliate Links, which means as an Amazon Associate I may earn commissions through links you make purchases through.
Boy, I wish I had this as a child. This Aveeno brand Baby Eczema Therapy Soothing Bath Treatment is great at temporarily reducing the symptoms of eczema. This means less itchy skin and inflamed skin! Although it is not a cure, it does offer a relief of symptoms and for a child that can be really beneficial. 
FYI: I'll be analysing the ingredients in the bath treatment and even providing you a DIY version below!
As a child, I had no idea what I had, all I knew was that I had red patches around my body and I can never itch the very itchy skin. Granted, I always itched it, it was hard not to do so. Even as an adult, it is very hard to resist the attempt of itching, but at least now I can comprehend that I have eczema. Therefore, I can understand how scary it might be for a child to not understand why their skin is acting like this, why they have to suffer through this.
I know it sucks that this is only a temporary relief, but I can assure you, that temporary relief is better than no relief. Bathing in a tub with the Eczema Therapy Bath Treatment was a good de-stressing thing that helped relieve my itchy arms and legs when I am about to go to sleep. Sometimes it gets so bad that it keeps me up, the need to itch my skin and make my eczema worse. This bath treatment was able to keep it at bay till I fell asleep, giving me the much needed rest I wanted.
After using it a few times, I realised that I could make a DIY version myself. Just grind some organic oatmeal into very fine powder and voila!
How to Use:
Turn the water onto a comfortable warm temperature that is appropriate for your baby, child or even you. While the tub is filling up, you should slowly sprinkle the soothing treatment packet under the running faucet. For infants: you might want to consider sprinkling only half of the packet. When the packet is poured, you should stir your water around to make sure the powder does not clump up or sink to the bottom. If your child is willing, you could always ask them to swirl around and have fun in the tub as well!
I usually stay in the tub for a minimum of 30 minutes. For children, I would try to go for 15 to 30 minutes and maybe 10 minutes for those younger (2 and under). If you or your child has fussy skin, you might want to consider using it daily. Since it helps soothe the skin, I think it is quite beneficial to use it around night time as it might bring better sleep. As always, you should always consult your doctor before using it if you or your child has severe eczema.
Ingredients:
The Baby Eczema Care Soothing Bath Treatment actually features Colloidal Oatmeal, an ingredient that is used quite often in their eczema and sensitive care product lines. In fact, the bath treatment has only 3 ingredients, Colloidal Oatmeal, calcium silicate and laureate-4 mineral oil.
Colloidal Oatmeal is just a fancy term for oat grains that have been grinder into fine powder. It is a common natural ingredient that is used for skincare products as it is great for those who have dry, itchy and irritated skin.
It packs a lot of nutrient to your skin and can soften and soothe your skin. In addition, it also contains anti-inflammatory and antioxidant properties that will help reduce the damage on your skin from environmental stressors.
Calcium silicate is a bulking agent used in skincare and cosmetic. It is safe to use on the skin as it basically makes your bath water more opaque without it being penetrated into your skin. However, it might cause physical irritation to you if it gets into your eyes or mouth.
Laureate-4 mineral oil is an ingredient that helps make the texture of the product better. It works as an emulsifier and helps improve the consistency of the bath treatment water. It is considered a safe ingredient, but does not have any benefits to your skin whatsoever.
As you can see, colloidal oatmeal is pretty much the only ingredient that matters. If you want to save on money, you can buy some organic oatmeal, super blend it yourself and put it in your tub to soak. Make sure that the oatmeal is very finely blended so that the nutrients can be absorbed. It is basically the same thing! The only difference is that Aveeno's product mixes better and the water feels smoother. Other than that, I really did not see much difference between a DIY oatmeal bath and Aveeno's bath treatment.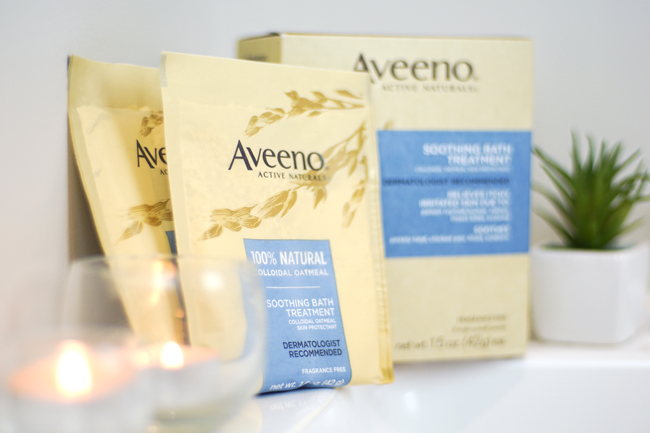 It has long be known that colloidal oatmeal can help protect and soothe the itchiness and irritation you get from eczema. It can bind to your skin and form a barrier that protects you while helping to hold in the moisture on your skin.
There has been studies shown that children who took baths with oatmeal for 1 to 3 weeks saw an improvement to their sores. The DIY oatmeal bath is a simple and inexpensive solution for your skin issues. If you prefer not to DIY it yourself then I certainly think Aveeno's Eczema Care Soothing Bath Treatment is a really good product for those with skin issues.