This is honesty my favourite drugstore mascara! I swear!
Like how Too Faced's Better Than Sex Mascara is a cult favourite, L'Oreal's Lash Paradise is the cult favourite of drugstore mascaras. Drugstore beauty products are becoming better over the years and the Lash Paradise is honesty something that can rival high end mascaras. L'Oreal makes huge claims about their mascara! They state that 91% saw increase and volumized lashes, 98% saw lengthening effect and 87% saw more beautiful lashes in a consumer test. This is one of their best mascara for those who are looking to increase their volume.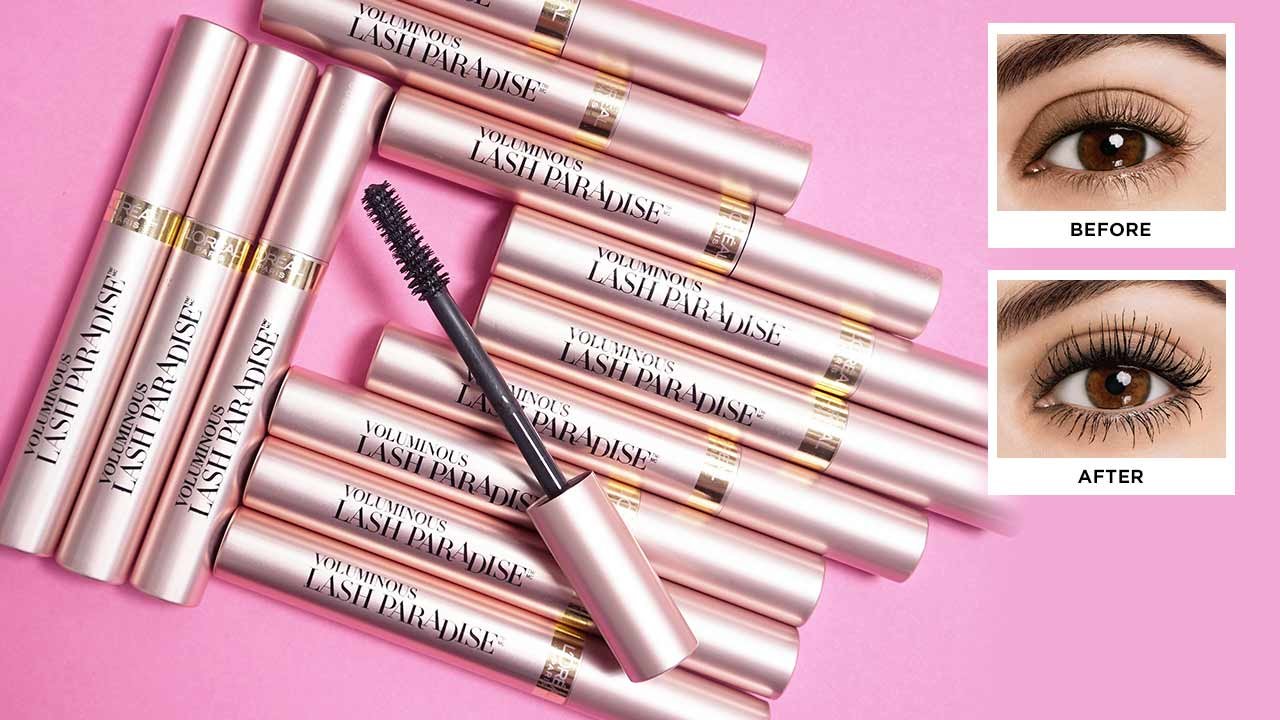 For me, my natural lashes are thinner, shorter and less dense than other people. I also find them to be stubbornly straight lashes as they don't really curl well. The Lash Paradise was able to separate wide my lashes and coat it fully and lengthening it and adding volume. I like how the mascara made my lashes look blacker and thicker. The wand is shaped like an hourglass so the middle is slightly smaller and has shorter bristles. At first, I was a bit skeptical as a smaller middle might make it a bit awkward to use when I want to brush all my lashes. After using it a few days, I realised the shorter middle is actually pretty cool as it helps balance out how your lashes are coated, giving it a more well rounded coat to all the lashes. The hourglass figure also gives me the ability to easily spot coat parts of my lashes. Likes sometimes, I would like to just swipe a bit more on the middle or ends, and the fact the middle is a bit smaller allows me do it quickly and efficiently. 
The formula is pretty black. I was pretty impressed at how the product works on my Asian lashes. As someone with Asian lashes, I've found that a lot of the Western products do not work as well on my lashes. It just doesn't feel like it's suited for me at all. This one coats really well but I find it slightly little bit thicker than I wanted it to be. One swipe is enough to fully coat and give the mascara eyelash look.
I use the waterproof version and I can guarantee that it is probably one of the best waterproof mascaras I've used. I have really teary eyes and I pretty much cry over everything. The mascara is able to last me all day and even over night, although they do clump up and look smudged overnight. During the day I would be rubbing my eyes quite often and it would be able to last through that too.
For those who are looking for a decent and cheap mascara that is good for all eye types, I believe the Lash Paradise is one of the best choice to get. It is affordable and is layer friendly, allowing for you to customise your lash look. It is a very flexible mascara that grabs every single lash and gives it a full lengthy coating.
I am a participant in the Amazon Services LLC Associates Program, an affiliate advertising program designed to provide a means for sites to earn advertising fees.