Pycnogenol is an antioxidant derived from a French Maritime pine tree bark. Currently, you'll mostly see this ingredient being sold by The Ordinary as Horphag Research is the only supplier of Pycnogenol in the world. Because pycnogenol is derived just from a pine bark from a French Maritime, this product is vegan and only has 2 ingredients in it! Which is pretty amazing as nowadays the market is saturated with many products with tons of ingredients that we know nothing about.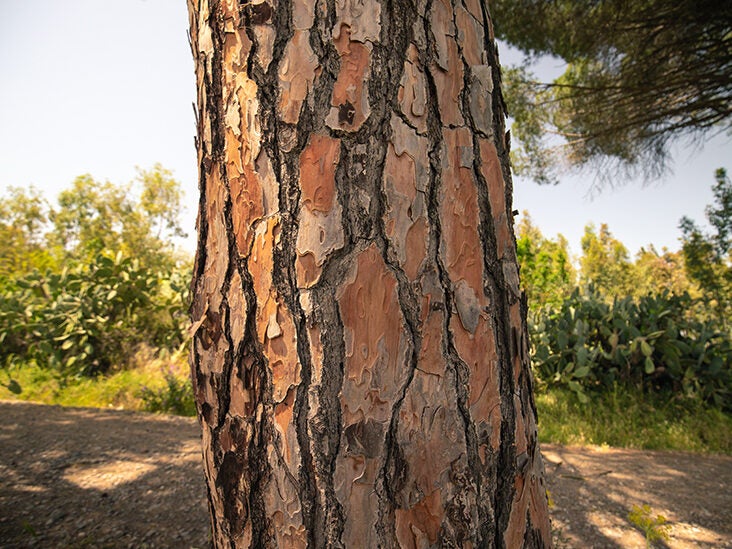 Proanthocyanidins are a class of polyphenols that are found in a variety of plants. They are the same type of flavenoids that are found in red wine. Pine bark's pycnogenol is popular for repairing collagen, helping the body fight against the damage from the sun and strengthening your capillaries. Studies have shown that pine bark has the ability to have antioxidant levels several time higher than vitamin C and E, and is great with helping the skin regenerate vitamin E and recycle vitamin C. However, despite all the great claims, this ingredient is still relatively new in the skincare industry and therefore does not have as much testing done by outside research to fully agree with the claims that has been made.
Pycnogenol is also sometimes taken as a supplement. A study done by the Leibniz Research Institution in Germany has shown great benefits of taking Pycnogenol as a supplement. After taking 75mg of pycnogenol a day for 12 weeks, the 20 participants have found that the production of hyaluronic acid has increased by 44%, 25% increase in elasticity and increase in hydration of the skin. What you do need to know is that this study is done with 20 women from the ages of 55 to 68. There is still much research necessary to conclusively say that it is beneficial to the skin.
One of the main components of pine bark is collagen, this is something that is already naturally occurring in your skin. It is suggested that pine bark can help provide the collagen that is necessary to repair and replace your skin. This is especially great for those who are vegan! When people think of collagen, most people think of animal sources and not from pine bark. Therefore, this product will be a great source of collagen for those who are vegan as it is derived from plants.
Another component that is important is the antioxidants in pine bark. This can help your skin find free radicals and helping it get rid of it. For women with high sun exposure, this is a helpful thing to have. It is said that sun damage is the leading thing that causes skin aging. The more time you spend in the sun, the more damage will appear on your skin. Pine bark can therefore help protect and help with the healing of the skin.
It also has anti-inflammatory properties and can help your skin reduce inflammation and allow for a more radiant skin. It selectively binds to collagen and elastin and aid in the production of endothelial nitric oxide. Nitric oxide is an important stimulus in your body. It helps with your body to increase circulation, this helps your cells to heal and increase blood flow.
I found this product to be pretty good, my skin doesn't break out and it's always nice to put a little collagen on the skin. It's oil free, silicone free and alcohol free. This matters to me much as I like how little the ingredient list is. I absolutely love the idea that there's only 2 ingredients and therefore simplifying it. You get to know what you're putting into your skin instead of using a product with like 20 different ingredients full of confusing words. Some people might think they're too young to start using anti-aging products. In my opinion, you should start as soon as possible because prevention is much more better than treatments!